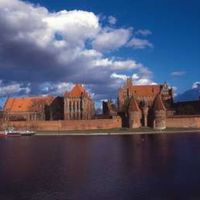 Cultural Tours
The tours are designed for connoisseurs of history and culture. Our guests can visit beautiful castles, magnificent palaces which belonged to Polish Royalty and aristocracy, manor houses, churches and other tourist attractions. Highlights include places registered by UNESCO on the World Cultural Heritage list , such as:
Malbork
, the largest European medieval fortified castle and the seat of the Grand Master of the Teutonic Knights;
Toruń
, the city of Copernicus with its splendid Gothic architecture;
Warsaw
, the Old Town, which was totally reconstructed after World War II;
Zamość
, a pearl of the Polish Renaissance;
Auschwitz-Birkenau
, the biggest and best-known complex of Nazi extermination camps;
Wieliczka
, a salt mine with its marvellous chapels and chambers with ornate chandeliers, elaborate carvings, stairs, altars - all carved in salt, the world's top underground attraction;
Kraków
, Poland's cultural capital and one of the most splendid towns in Europe - a gem of architecture Świdnica and Jawor, the Churches of Peace, Tyniec and Białowieża.