Tribute to Frederic Chopin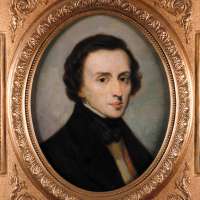 This 4-day tour includes the following items:
Warsaw - a half day sightseeing tour including Wilanów, the magnificent Baroque palace; the Holy Cross Church where composer's heart is kept; Chopin's Parlour with the piano that belonged both to Chopin and Liszt; the Chopin Museum at the Ostrogski Castle; the Royal Łazienki Park and the Chopin monument; the tombs of Chopin's family and his piano teacher; a private Chopin piano recital in a palace with a glass of champagne; an evening performance at the National Opera or Philharmonic Hall; an evening farewell dinner with a folklore show.
Żelazowa Wola, the family manor house and birthplace of Chopin set in a romantic park; a private Chopin piano recital in Żelazowa Wola.
Brochów, where Chopin was baptised.
Nieborów, the 18th century Baroque residence of the aristocratic Radziwiłł family; festive lunch in the Venetian Room in the palace, exclusively prepared for the group.